| | | |
| --- | --- | --- |
| Age | E-Mail | Member since |
| 32 | tim@saberproject.de | April 2006 |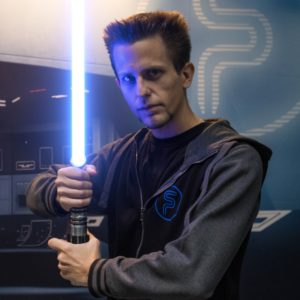 Your job at SP?
Actually, I take care of everything a little bit. But above all, I take care of the entire organisation of the team so that we can get to the various events. When it comes to telling and presenting the team, I can usually be found on a microphone.
Your best memory together with the Team?
The eve of our anniversary celebration 2016. Ten years are damn long and we as a team had managed to fulfill our greatest dreams as Star Wars fans. We were just a few hours away from meeting our idol Nick Gillard and finally had a comfortable evening together with everyone.
But I could probably write a book about the best memories, there were so many great shows, panels to host and much more. But above all the best thing is to see my team at an event and have fun together.
Three things that you don't want to miss at an event?
Your own lightsaber, permanent markers and a small tool kit. A microphone is usually already there, so let the show begin.
Beyond these three things, it's the team members and our supporterteam who turn every event into a party, I wouldn't want to miss anyone.
Why actually Lightsabers?
Because lightsabers are one of the best inventions. I've been a Star Wars fan ever since I can remember and whether it's broomsticks or cutlery, with the right sounds everything is a lightsaber.
How did you become part of the team?
Actually, the team came to me. Among others, Alex, who is still with us today, and I founded and built Saberproject from scratch. It just started as an idea in the "Projekt Star Wars" forum to build a page about lightsabers. And I think that worked quite well...