| | | |
| --- | --- | --- |
| Age | E-Mail | Member since |
| 32 | alex@saberproject.de | April 2006 |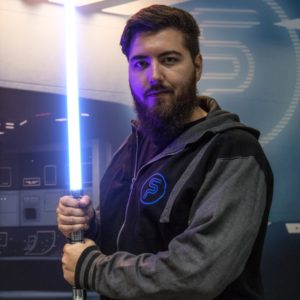 Your job at SP?
Hauptsächlich bin ich im Team zusammen mit Hannes für die Videos zuständig, wobei mein Fokus allgemein mehr auf den visuellen Effekten als beim Schnitt liegt. Auf Events laufe ich häufig mit der Kamera rum und versuche die tollen Momente auf Fotos und Videos festzuhalten und koordiniere die Verteilung der Kameras an unsere Helfer. Auf der Bühne bin ich entweder als Jedi, oder aber als Darth Vader zu sehen.
Your best memory together with the Team?
das dürfte definitiv unsere Jubiläumsfeier gewesen sein. Unser Vorbild Nick Gillard zu treffen und einfach die Zeit mit unseren Freunden zu genießen war einfach einer super Zeit.
Three things that you don't want to miss at an event?
Am wichtigsten für mich ist die gute Laune, zusammen mit den richtigen Leuten. Denn Ohne wird jedes Event schnell anstrengend und stressig. Ansonsten darf auf einem Event auch kein Vader fehlen.
Why actually Lightsabers?
Dadurch, dass mich visuelle Effekte und Schwerter im Allgemeinen schon faszinieren, sind Lichtschwerter die perfekte Kombination aus beidem. Gerade bei Lichtschwertchoreographien kann man sich dann kreativ auch noch etwas mehr austoben.
How did you become part of the team?
Anfang 2006 stellte ich Videos von Lichtschwertkämpfen mit meinem Vater online ins Projekt Star Wars Forum. Als Tim mich daraufhin fragte, ob ich Interesse hätte eine Seite über Lichtschwerter aufzubauen, konnte ich unmöglich ablehnen.