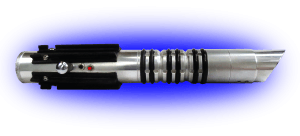 Xiphias is a custom lightsaber which was built by Tim back in 2009 and the first MHS based lightsaber in our team.
The hilt is inspired by Anakins and Obi-Wans lightsaber from the movies and shows a few similarities.
The lightsaber was used in every single show until 2014. You can see the scratches and minor defects of the many battles where the saber fought against Sith on stage. Tim may not use it any more on stage, but it will always have a special place on our booth, for pictures at events and will still be used for workshops.
Current specifications:
Hilt based on the Modular Hilt System (MHS) by thecustomsabershop.com
Crystal Focus Saber Core V7.5 (SP-Surround ready)
3D-printed chassis
BBW Triple Cree LED (blue blade color and white flash on clash)
18500 2000mAh Li-Ionen rechareable batteries
2W bass speaker
2,1mm recharge port
Custom killkey
Just click on the different tabs to take a look at the evolution steps of the saber. Begin with the initial build of the Mark 1 (MK1) up to the current MK11
Mark 9: September 2014
New hole for the blade retention screw
Mark 10: Oktober 2014
Exchange of the LED, still using a Tri-Cree
Mark 7: May 2013
Cleaning of all parts
New Luke ESB styled grips
Upgrade to CF 6
Wiring for the Saberproject Surround system
Mark 6: March to October 2012
Cutting of the chassis to imprive soundvolume
Miscellaneous repairs, bigger scratch from FACTS
Mark 5: March 2012
First saber to use the Tri-Force Saberproject LED (Triple Cree)
BBW for Flash on Clash
Mark 4: December 2011
Flash on Clash using a Cree MC-E RGBW LED
7,4V Li-Ionen rechargeable batteries setup
Plecter Labs sound-hack for CF
Mark 3: May 2011
Cleaning of all parts
New chassis, still made of plastic parts
Upgrade to CF 5.1
Mark 2: July 2010
Simple chassis made of a plastic-tube and board
Adding a hole for the blade retention screw
3,7V Li-Ion rechargeable battery Setup