| | | |
| --- | --- | --- |
| Age | E-Mail | Member since |
| 33 | markus@saberproject.de | May 2008 |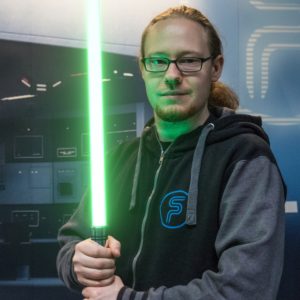 Your job at SP?
Zeugwart, Schwertbauer, Showkoordinator, Seminarleiter, Texteschreiber, Übersetzer.
Your best memory together with the Team?
There were so many moments and each of them is special on its own. There are pretty much all our shows, meeting Nick Gillard, the premiere of TFA, the video shootings with Schandmaul and Rammstein, as well as the feeling you have when you created some great, new choreographies after an exhausting day of training.
Three things that you don't want to miss at an event?
- Charged (!) sabers - A significant amount of replacement blades - Zwei 2 mm Inbusschlüssel – einen für mich, einen für Hendrik
Why actually Lightsabers?
I don't understand the question.
How did you become part of the team?
Together with a friend we participated in a saber choreography video contest that was held by Saberproject and which we won. So the team and I made contact with each other and I visited them for Jedi-Con 2008 and assisted them out on this event. Two month later I officially became part of the team.