| | | |
| --- | --- | --- |
| Age | E-Mail | Member since |
| 33 | chris@saberproject.de | Juni 2010 |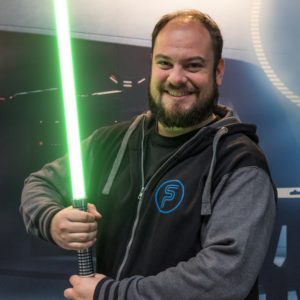 Your job at SP?
Announcements, event reports, Facebook
Your best memory together with the Team?
There are many, because every memory is unique in its own way. A very special experience was the shooting to the music video "Germany" with Rammstein, because it's always especially exciting when we have an event outside Star Wars.
Three things that you don't want to miss at an event?
enthusiastic people, good mood, black humour
Why actually Lightsabers?
Lightsabers are elegant, they stand for a special form of art and are therefore not comparable to ordinary swords. For me, lightsabers symbolize the Jedi system of values that amazed me as a child so much. They are not only tool and weapon, but symbol of a affiliation.
How did you become part of the team?
In 2009, I discovered the first Force-FX lightsaber on Ebay and was immediately thrilled. When researching what these sabers can do, I quickly came across the website of a group of lightsaber enthusiasts and signed up in their chatroom. This is how I met Markus, who was actually always online, and the rest of the squad followed soon after. And so the story began...