| | | |
| --- | --- | --- |
| Age | E-Mail | Member since |
| 26 | hendrik@saberproject.de | January 2015 |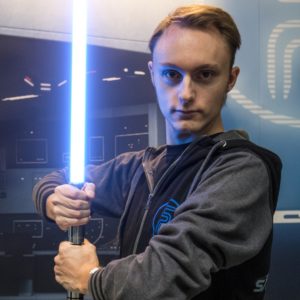 Your job at SP?
Writing texts and common tasks that need to be done.
Your best memory together with the Team?
Out of all the places and events we had the chance to visit, our 10th anniversary is something that will always stay in my mind. It is a really special experience when, in addition to all the people who accompanied us through the course of the years, suddenly Nick Gillard shows up and teaches you the same choreographies he made for the films.
Another memorable event was the opportunity to join Rammstein for the production of their video "Deutschland". I would have never thought that our lightsabers would bring us that far.
Three things that you don't want to miss at an event?
At first there must be food. Lots of it. A hex-wrench to tighten a loose or broken blade should also always be at hand. But most important are our friends and other fangroups, without whom it would get pretty boring in no time.

Why actually Lightsabers?
The dynamic of a lightsaber fight is an almost mesmerizing thing to me. Creating a new choreography allows you to be creative with your movements in a way that exists nowhere else. Even the same fight with someone else as your partner can leave a completely different impression.
How did you become part of the team?
After i bought my first lightsaber, i had to make good use of it. Visiting all the events brought us closer togehter and i started helping out at the booth and assisted our workshops. Slow but consistantly i became a part of the team.