Star Wars Identities 2016
6 August 2016
9:00 am
–
6:00 pm
Back in 2015 we were guest at Star Wars Identites, the unique exhibition with lots of props, models, costumes and concept arts, with lightsaber workshops and stage performances. After a short detour to Vienna the exhibition returns for a last time to Germany, to Munich.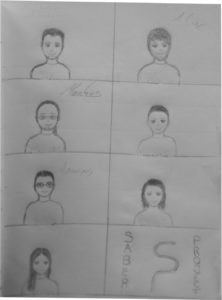 Weeks before the date, all twelve workshops were fully booked and we expected a stressful day. But after an hour it was clear that this day will become a very special one. We had older participants than usual. Normally our younglings are from age six up to twelve. Since the organizers provided lots of space, we were able to teach the participants correct footsteps and little tricks. Of course we and our participants had a lot of fun!
We were excited about the 14 year old Johanna, who saw our stage performance at LEGOLAND Germany. She made a drawing of our Knights of Ren and Jedi Knights from our show. To be drawn is a new experience for us and just like Johanna many other visitors stayed to chat about lightsabers after the workshops.
Many more visitors surprised us. Torben for example traveled all the way from Hamburg to meet us. It is great to see how our enthusiasm jumps over. We hope to see many of you at our next events.
Georg Panczak, the German voice actor for Luke Skywalker and a good friend of the team also participated at one of our workshops. Who can say that one taught the son of Darth Vader dealing with a lightsaber?
After a successfull day we spend the evening at a Bavarian beer garden with our assistants and Georg. We are ready for the next events!