Nick Gillard
Der Schwertmeister
---
Everyone who saw the Making-Ofs of the prequels knows Nick Gillard as the stunt coordinator of the fast and agile lightsaber fights. For our founding members exactly those Making-Ofs were the base of inspiration for their own lightsaber choreographies.
From the get go we wanted to interpret exactly that style and present it in our shows. The natural, organic seeming movements are described by Nick as chess, during which both players are permanently keeping themselves in a chess-position: "They can only parry there, they can only attack there. The moves are so natural or so correct, that's the only place they can be." That quote summarizes our way of fighting compactly.
Prior to the celebration of our 10th anniversary in 2016 we contacted Nick, telling him about our journey and activities in the Star Wars Fandom. Just like that a wish came true for us: Nick Gillard, our great inspiration and role model visited us for a long weekend.
We learned a lot about lightsaber combat, Insider information and benefited from Nicks knowledge and experience in a "Master Class".
Tim led an elaborate interview with Nick about his life and career:
An extensive report about his visit can be found in our reports.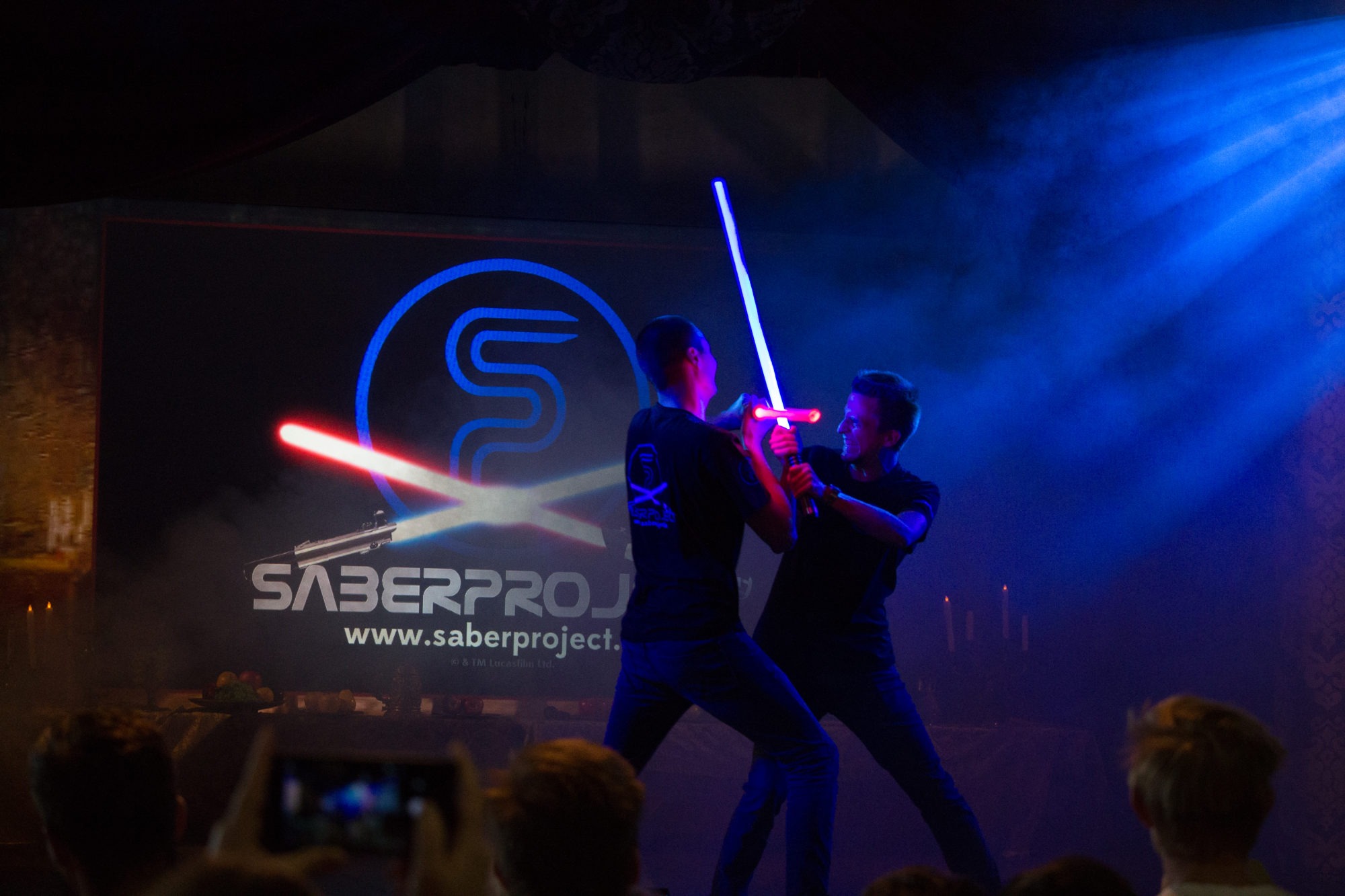 IMG_4375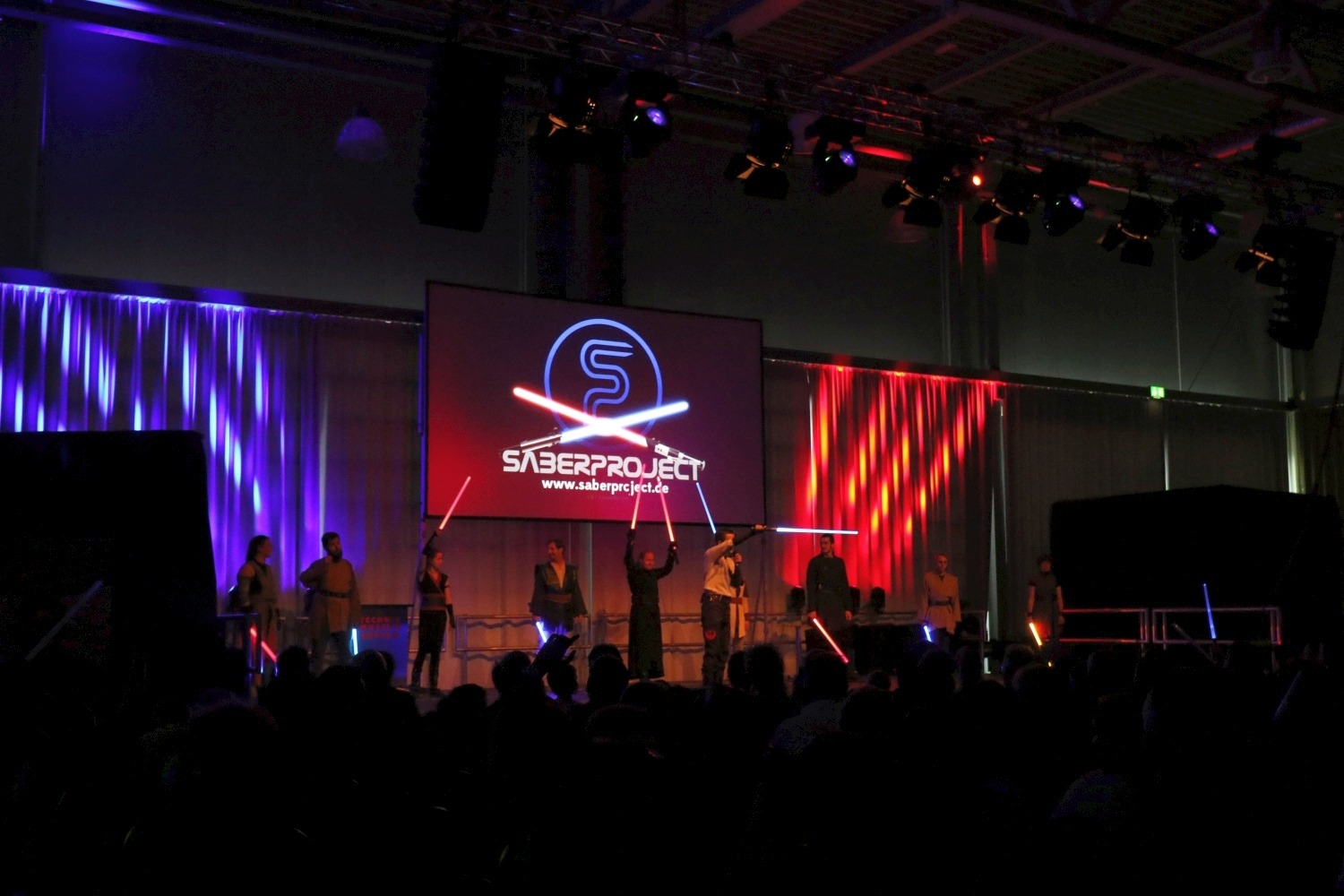 01
03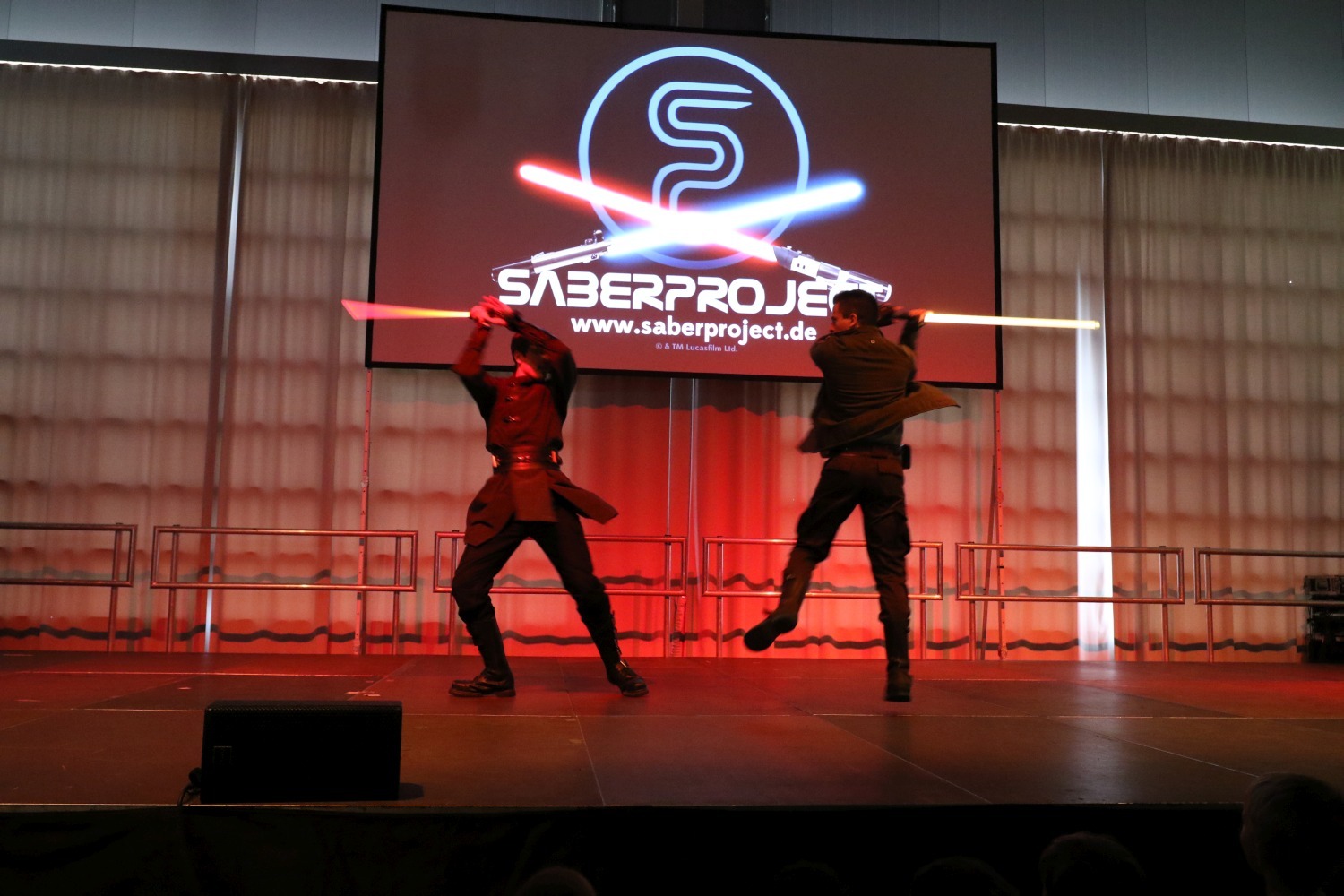 speyer2017_05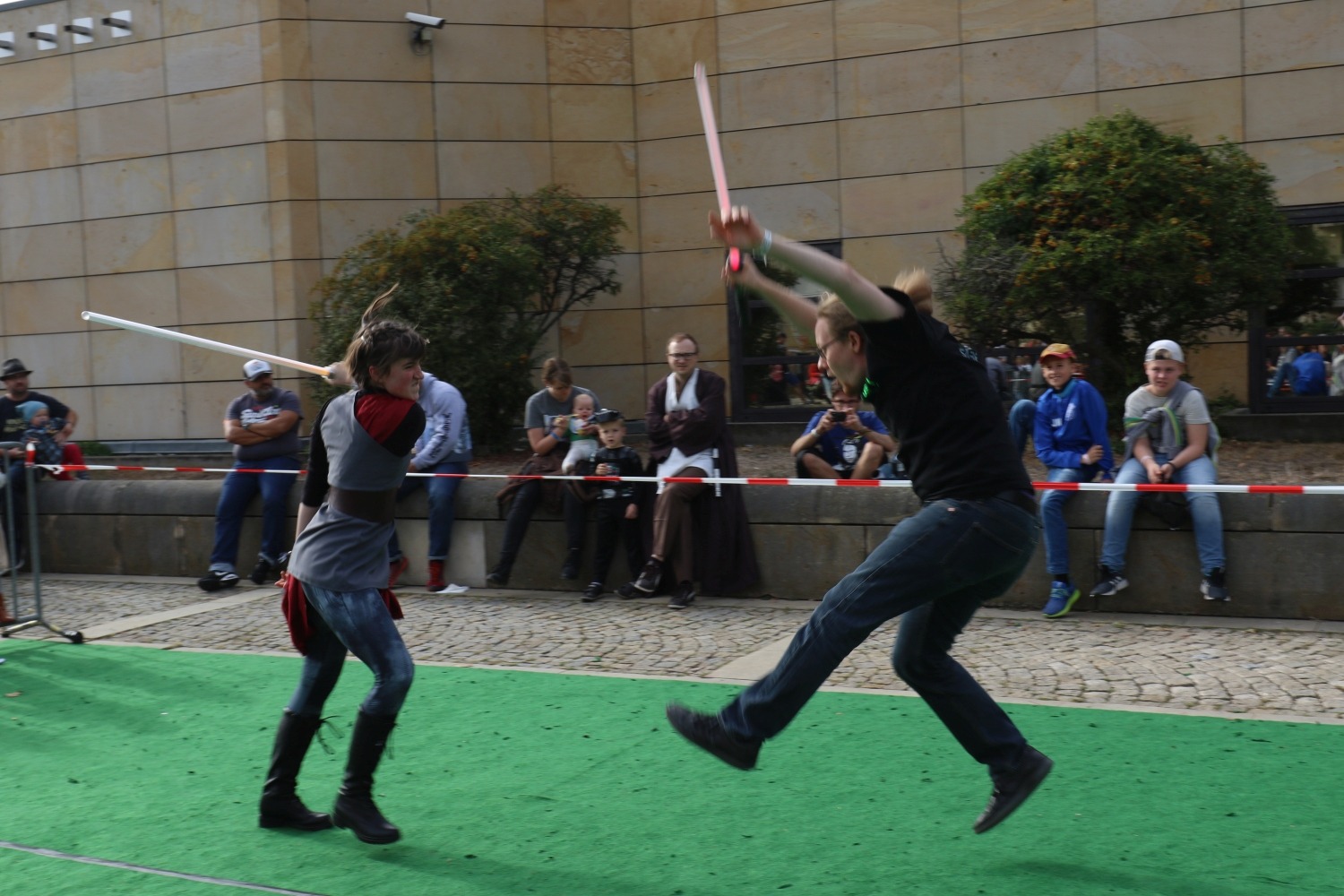 norisforcecon2018_06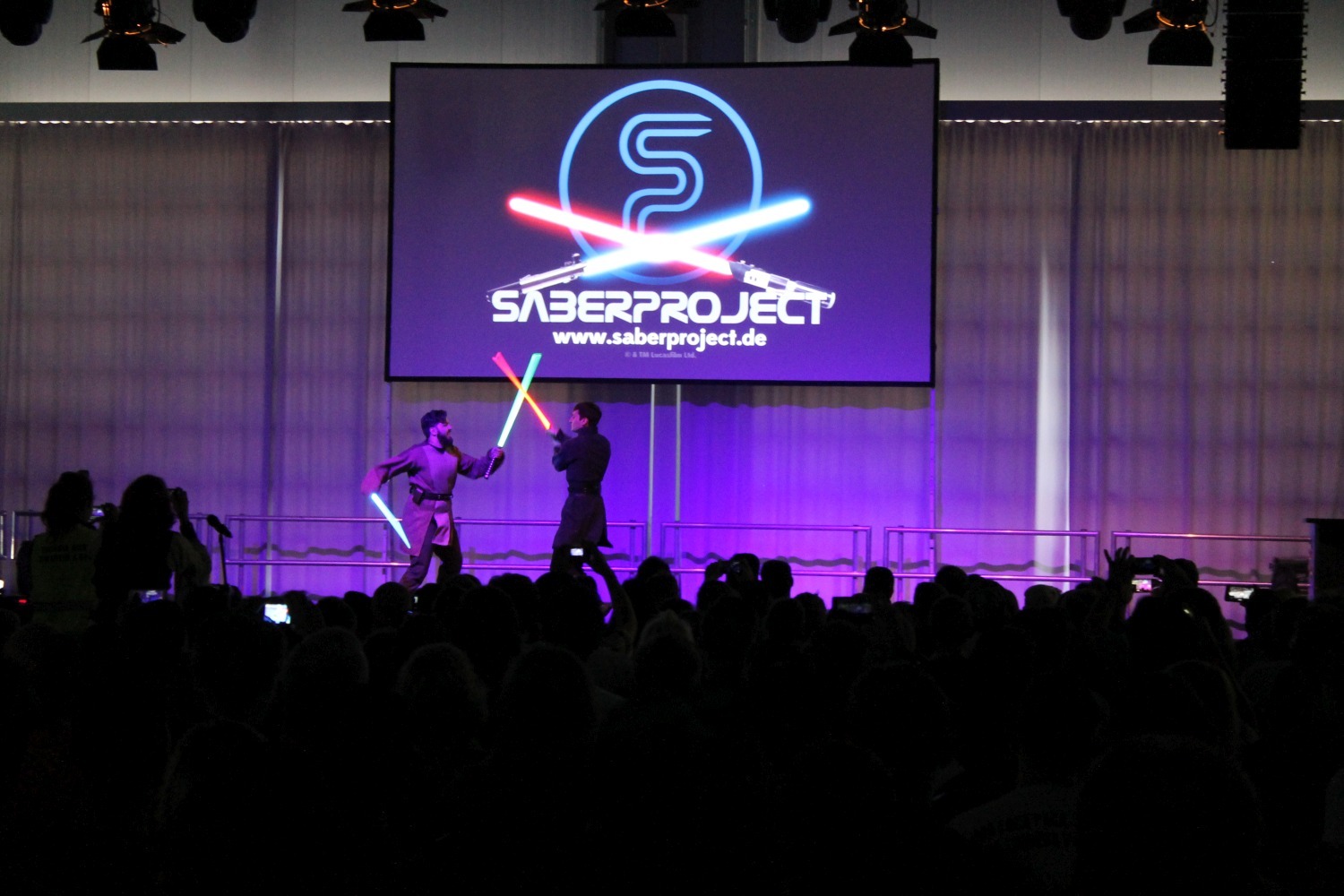 speyer2017_26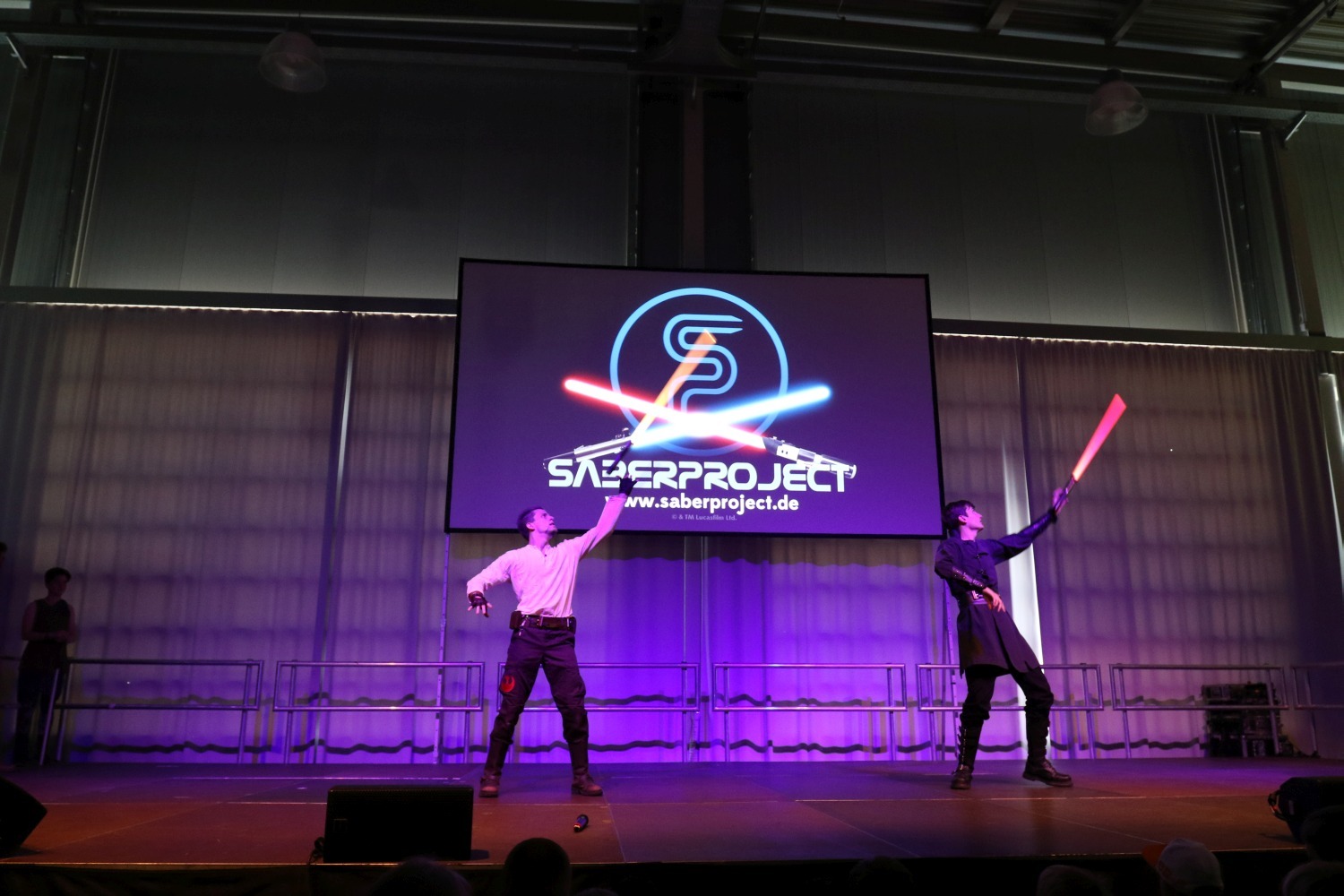 speyer2017_71
Shows
For more than 10 years we have been presenting our skills in lightsaber shows of different lengths. Depending on the conditions of the event you get included and learn all about the world of lightsabers.
The show, seen as a theater play transports you to a galaxy far, far away and lets you dive into the universe. The story is imagined by us, but close to the movies and meant to be a complement to side.storys.
On stage the team wears authentic costumes. Aspecial highlight is our worldwide unique "Saberproject Surround".
Any lightsaber sounds are being generated live by the motion of the lightsabers and are played by the sound system. No other sounds cause more goosebumps than the humming of lightsabers.
Since a few years we've been getting support from Ferenc Husta. You can hear the former member of the A capella band
"Wise Guys" as the narrator to our adventures on stage.
Another recognizable voice is Luke Skywalker, thanks to voice actor Hans-Georg Panczak.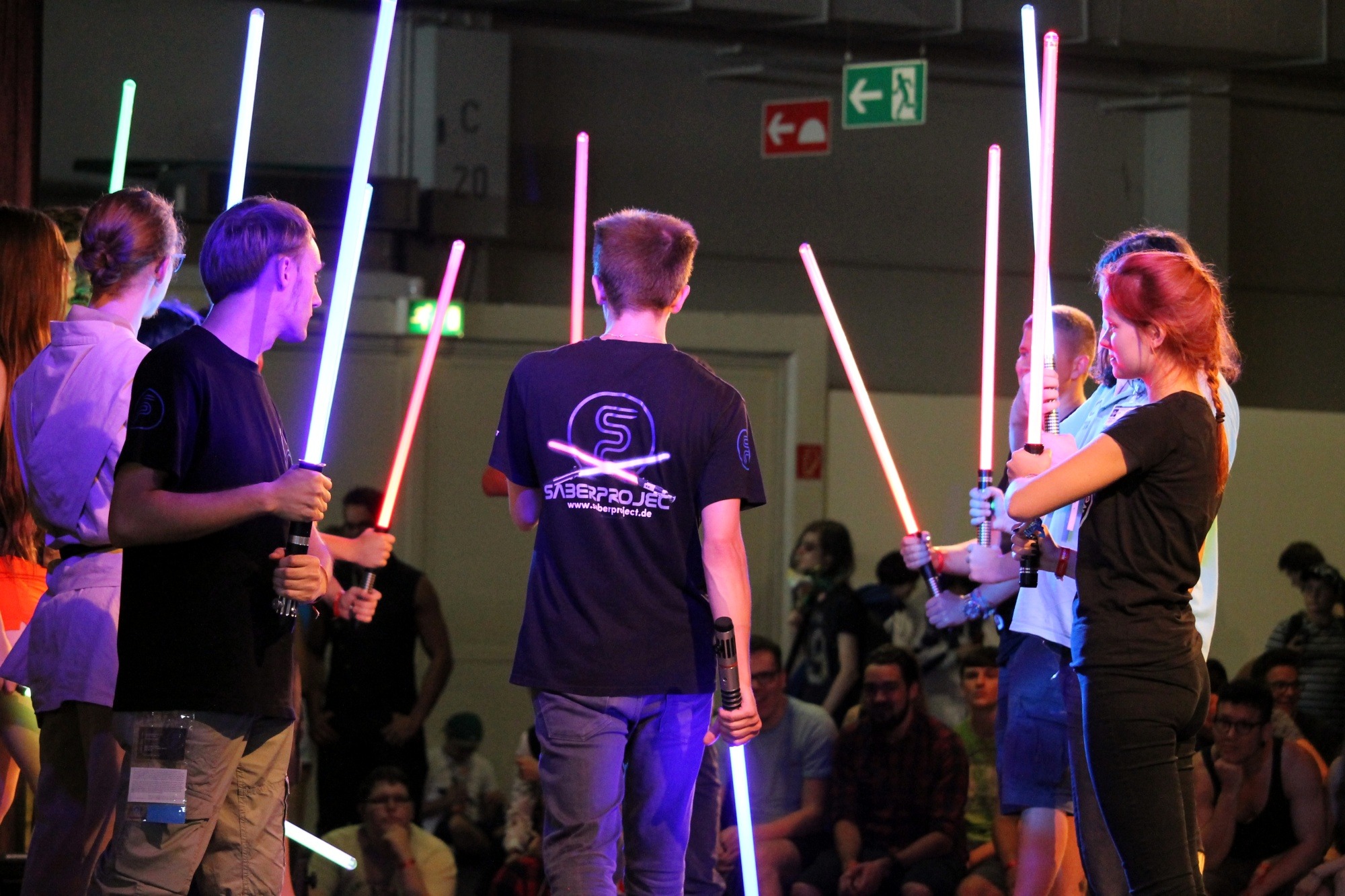 workshops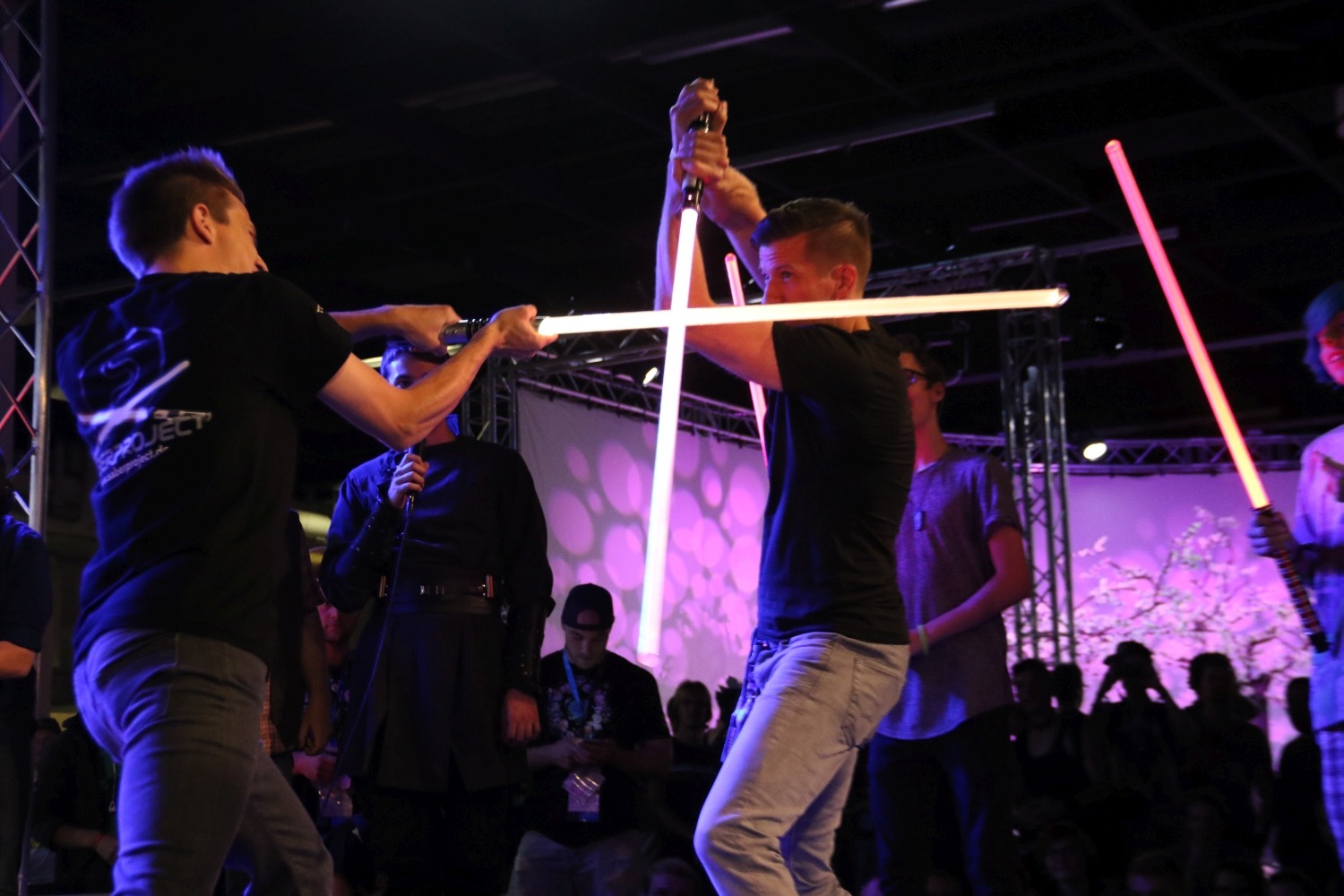 gamescom2016_32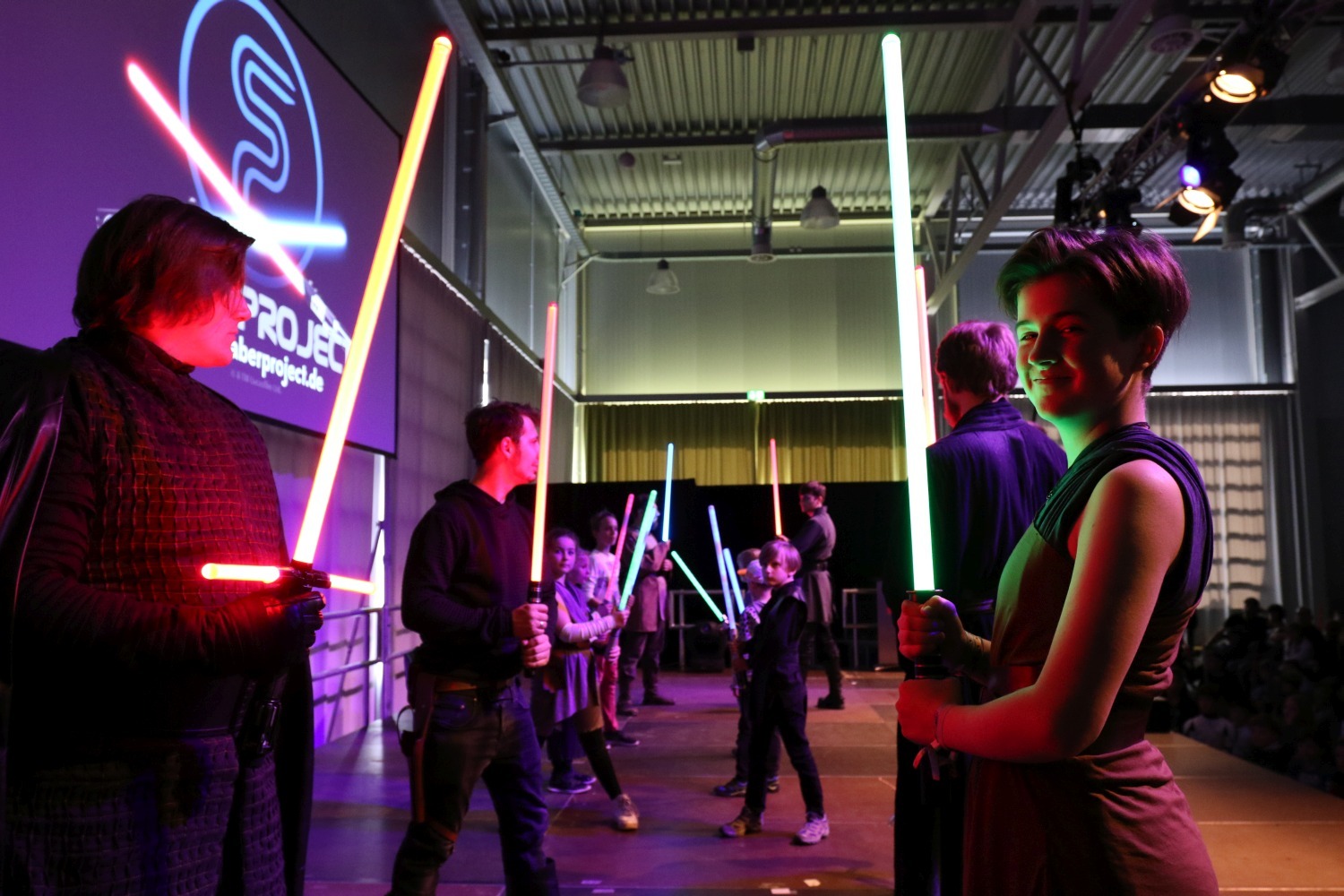 speyer2017_67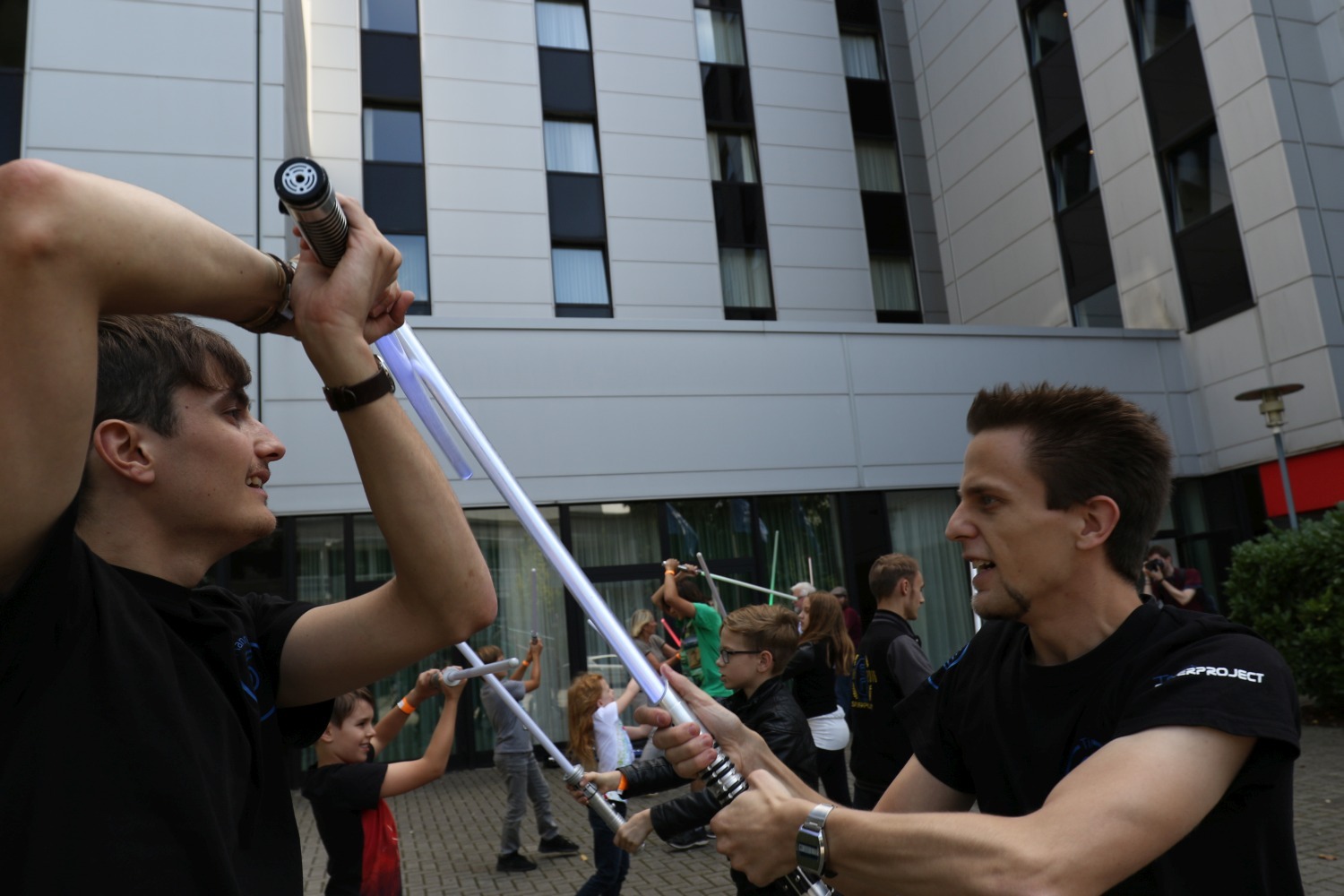 phantastika2017_03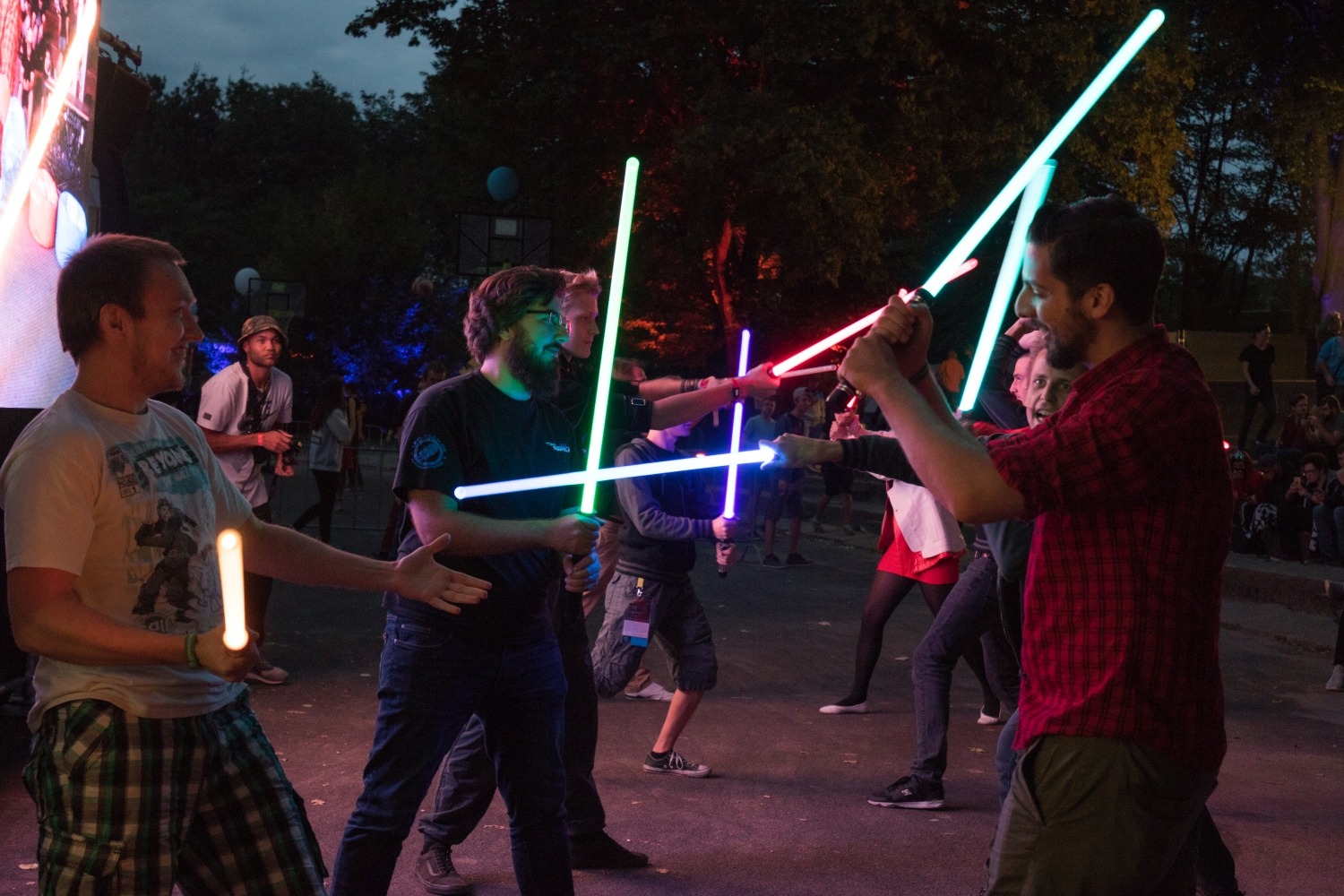 25
Workshops
Wir können auf viel Erfahrungen zurückgreifen und durften vom Schwertmeister Nick Gillard persönlich lernen. Dieses Wissen geben wir gerne an euch weiter, wir freuen uns über jede Person, die unsere Leidenschaft teilt.
Egal ob für große oder kleinere Kinder, Sportvereine oder auf einer Vielzahl an Events, wir sind immer gerne mit Workshops vor Ort. Ein Workshop kann hierbei zwischen 20 Minuten und einen halben Tag lang sein.
Eines ist sicher, um Lichtschwertkämpfe zu meistern, müsst ihr viel Geduld mitbringen und immer wieder üben, wiederholen und nochmal üben.
Mehr Informationen findet ihr auf unserer Workshop Übersichtseite.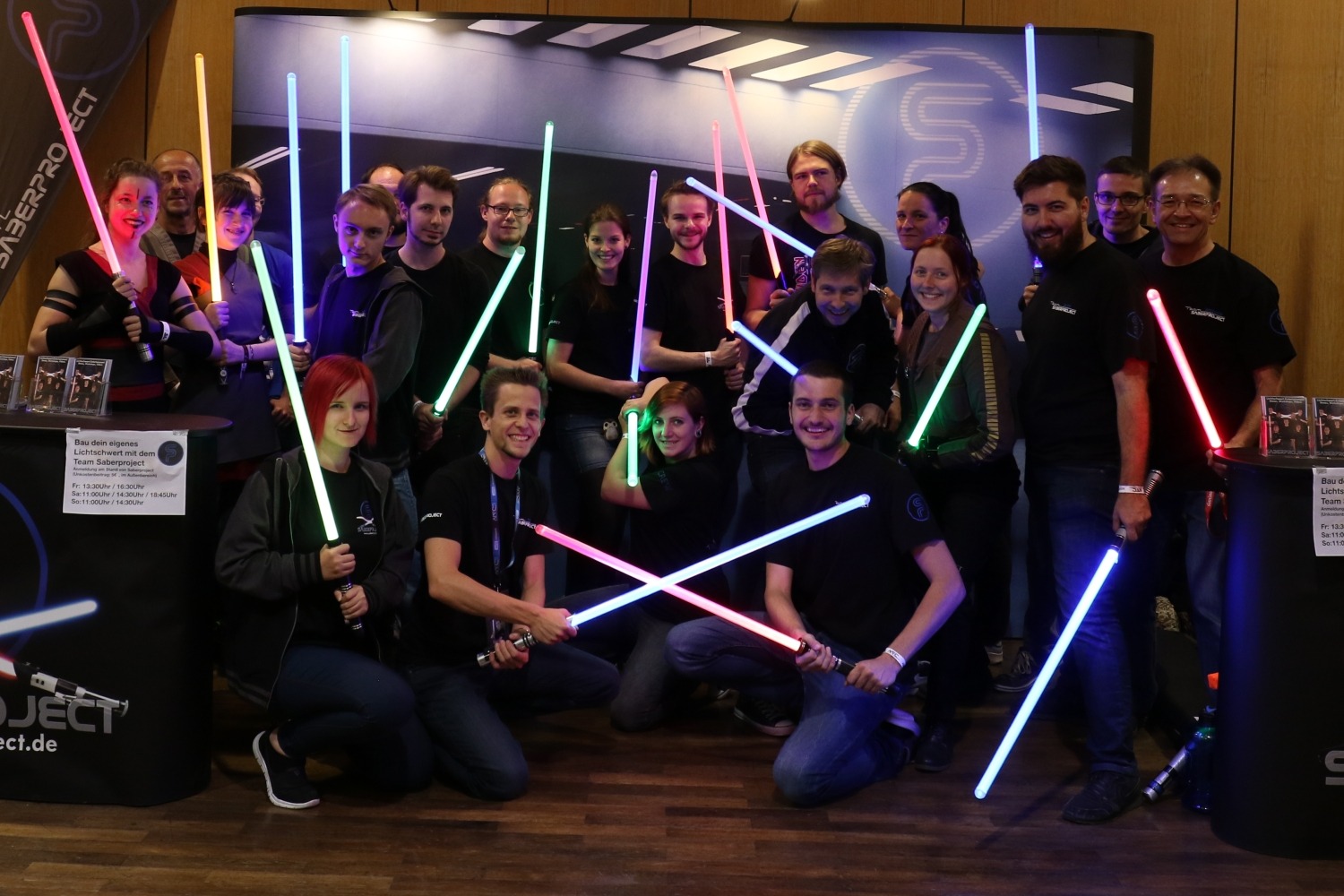 norisforcecon2018_04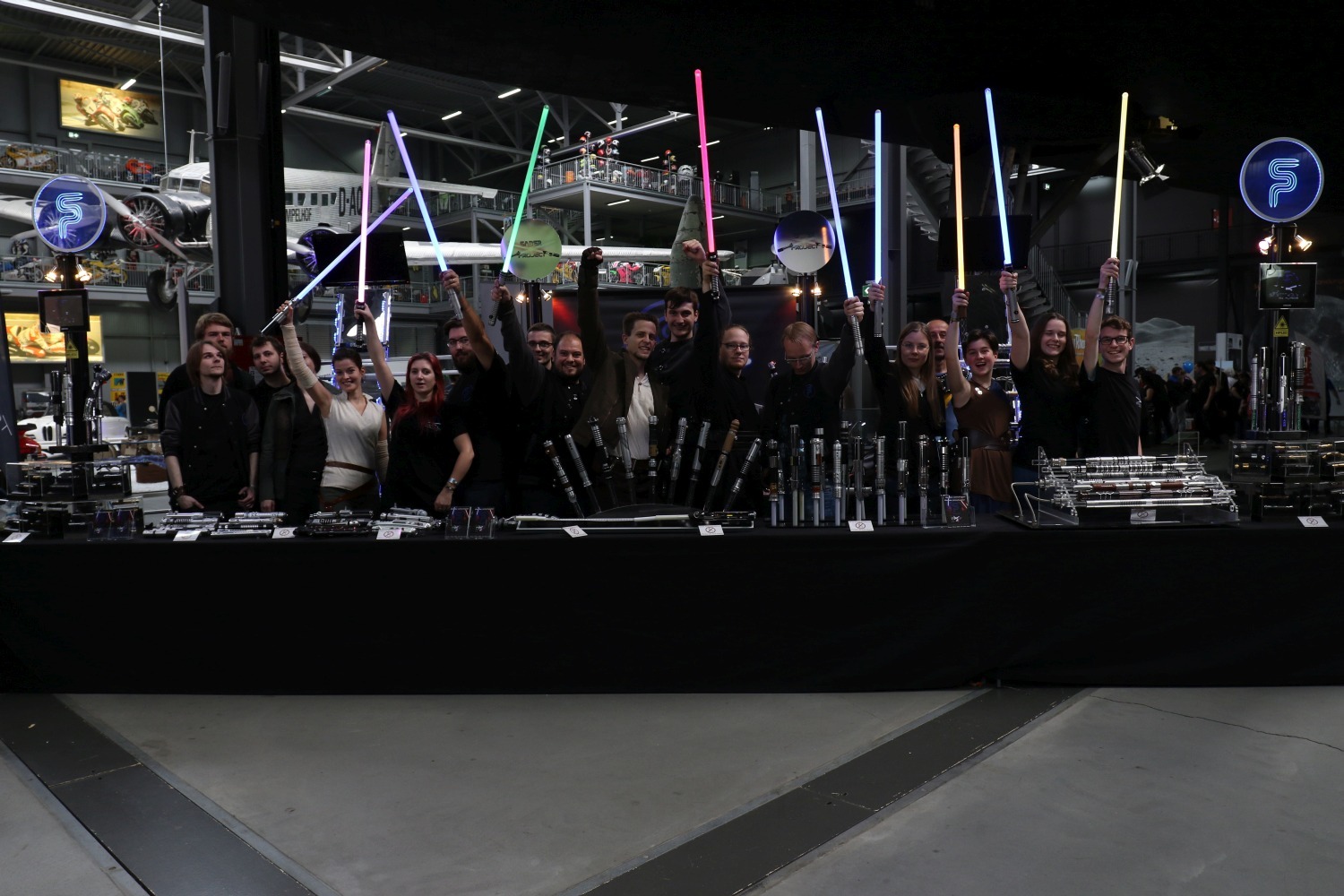 speyer2017_02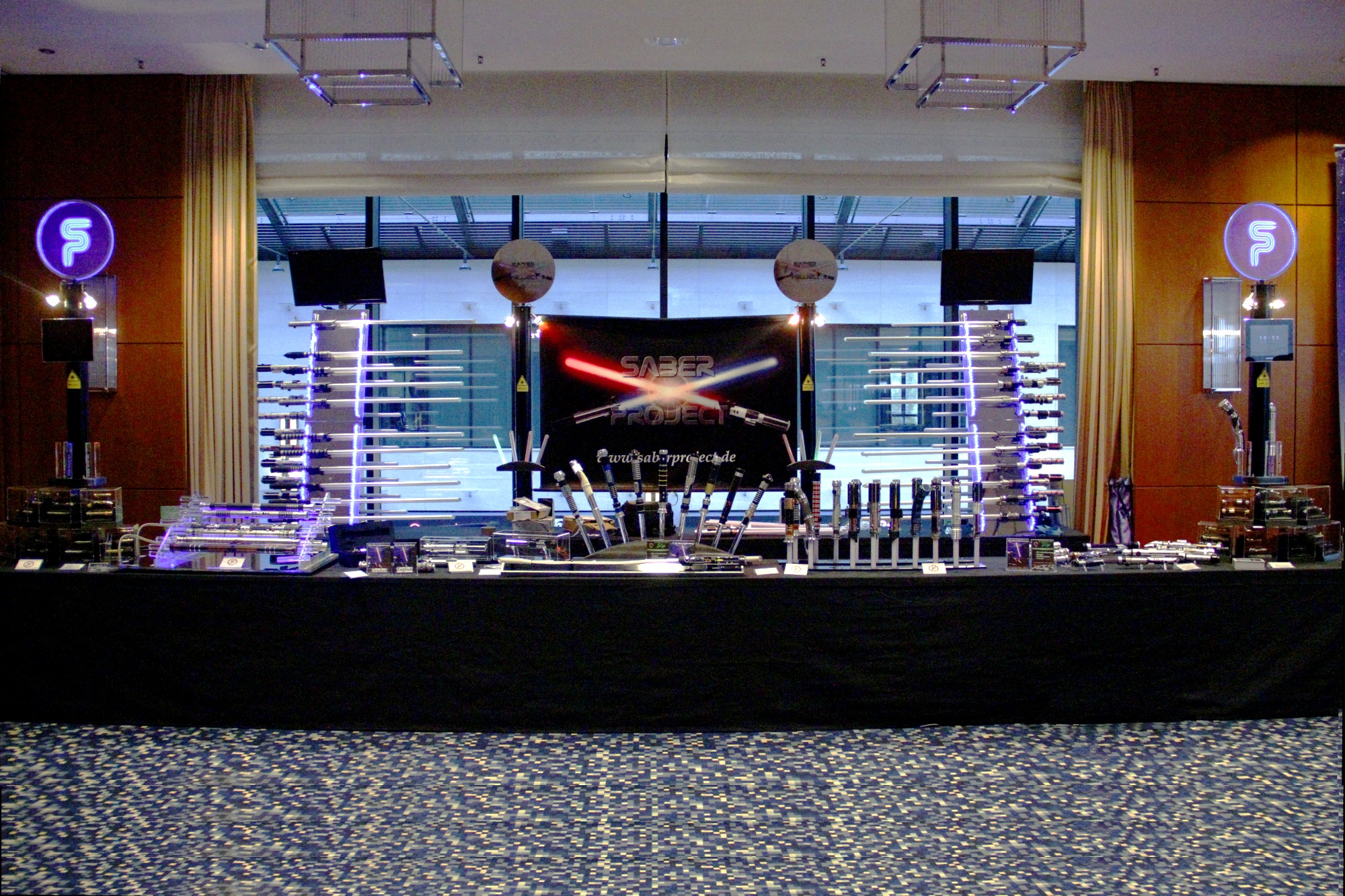 RentSP_08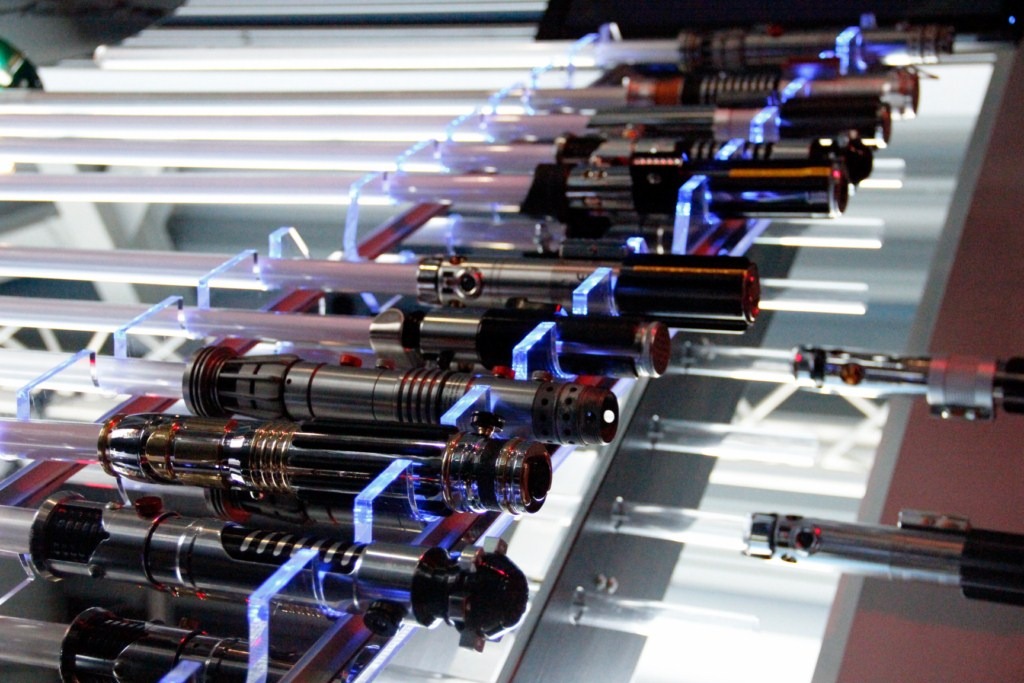 RentSP_10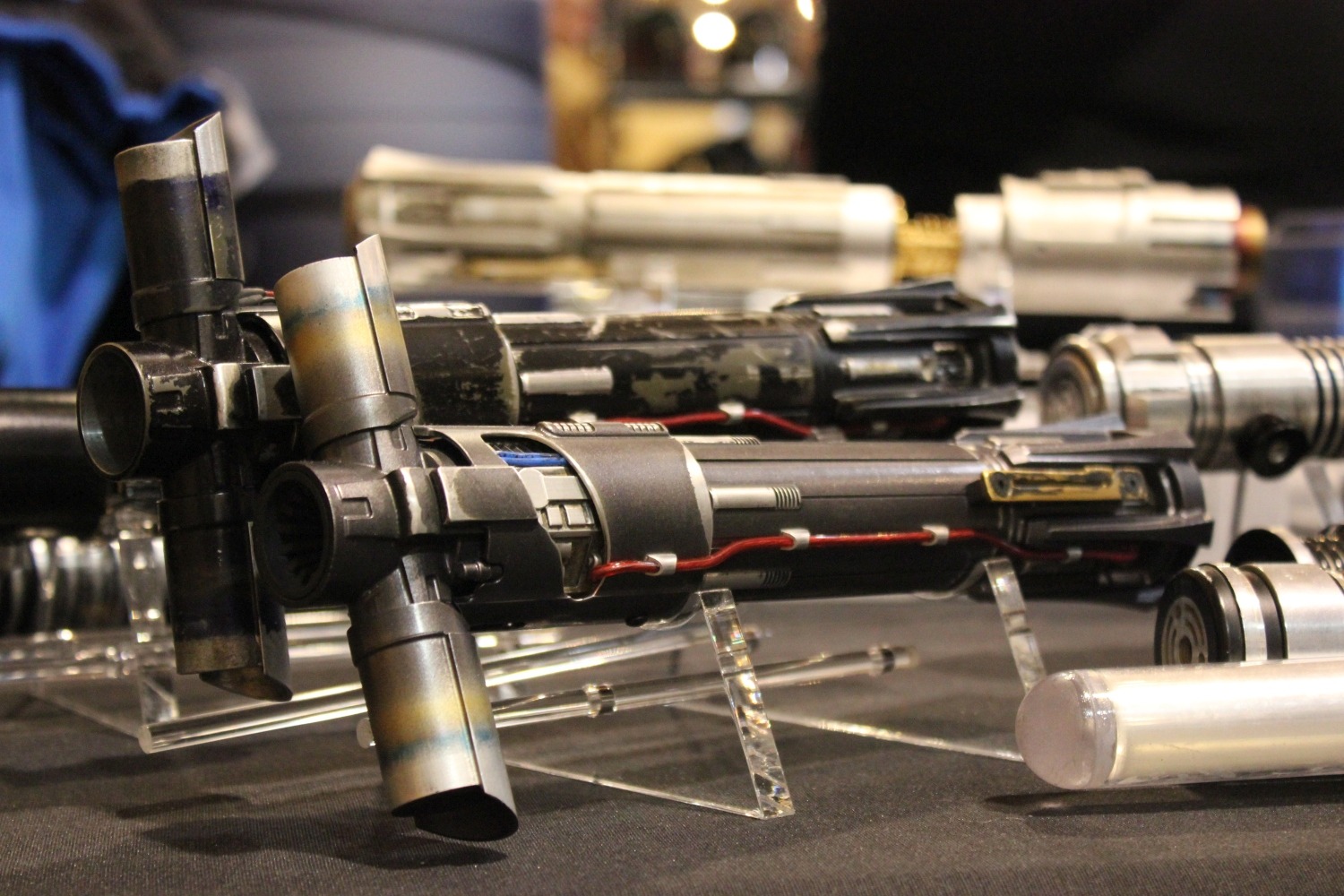 norisforcecon2018_21
Ausstellung
Direkt auf der ersten Convention, die wir als Team besucht haben, haben wir unsere Lichtschwert-Sammlung ausgestellt. Über die Jahre haben wir so einen großen, interaktiven Ausstellungsstand aufbauen können, auf dem sämtliche Master Replicas und Hasbro Lichtschwerter zu sehen sind. Daneben präsentieren wir unsere Custom Eigenbau-Lichtschwerter, egal ob nur zum Ausstellen oder für den Gebrauch bei einer Bühnenshow.
Neben diesem sieben mal drei Meter großen Ausstellungsstand haben wir jedoch auch eine kleinere Variante, die den Fokus vor allem auf unsere eigenen Shop-Lichtschwerter und einen Foto-Hintergrund legt.
So ist unser zweiter Stand leichter zu transportieren, bleibt aber interaktiv bzw. bietet sogar die Möglichkeit ein großartiges Erinnerungsfoto mit dem Lichtschwert deiner Wahl zu machen.
Für Detailinfos gibt es noch eine ausführlichere Beschreibung.
---
References and partners
All

Brand

Film and TV

Events

Music
---
The Team Saberproject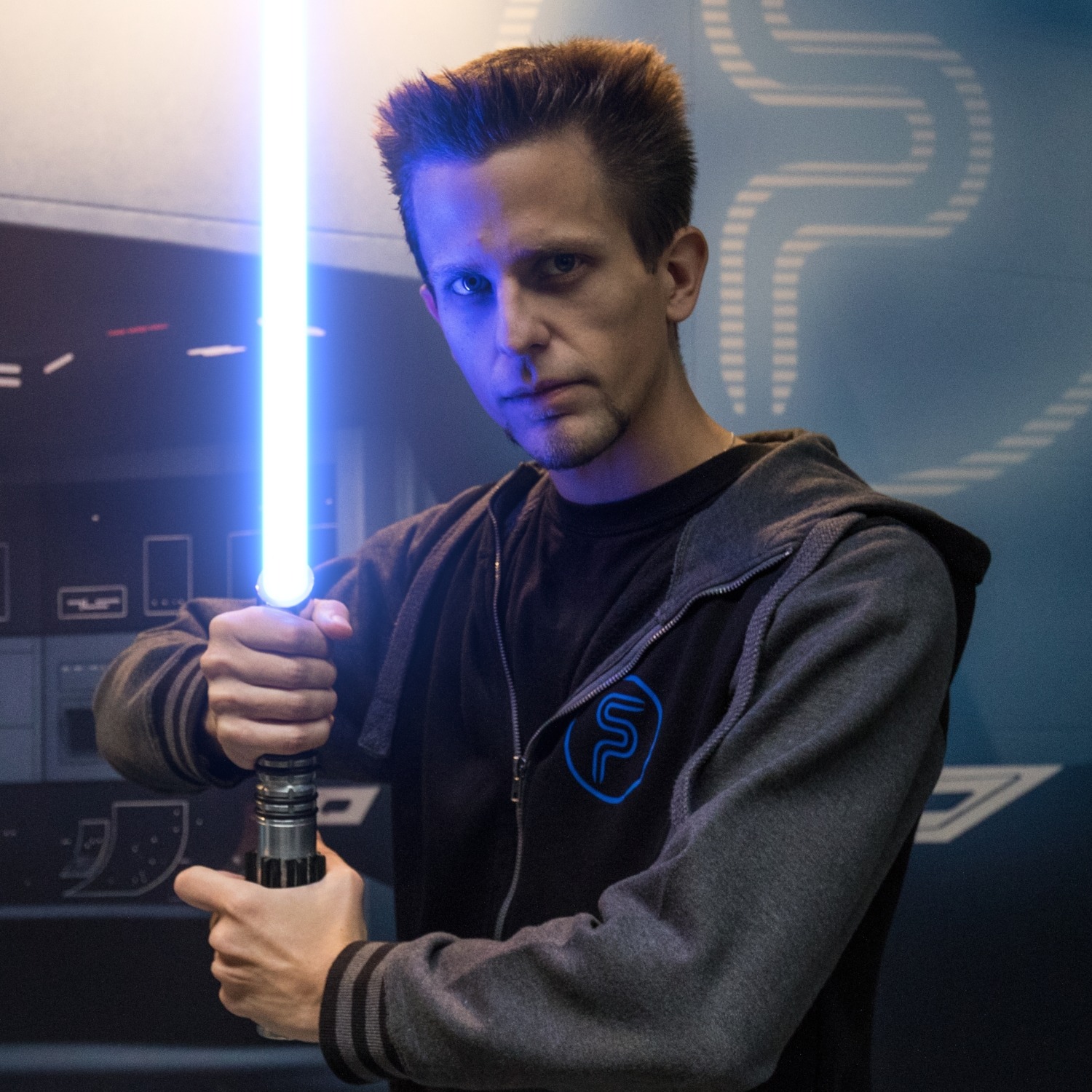 Master of Ceremonies, Admin, Video & Photo editing - Member since 2006
Tim is one of the founding members of Saberproject. Since his childhood he has always been an avid Star Wars fan and with the founding of a website dealing with lightsabers he started something he would not have dared to dream of. He is very proud of everything the team has achieved and hopefully will achieve in future. Inspiring visitors and spectators pleases him most about his hobby in which he invests a lot of time.
From the beginning Tim has been the administrator of our website. By working in the team he learned a lot of different things and now takes care of everything concerning the website's updates. Additionally he is also working with sponsors and is responsible for the general organization of the team.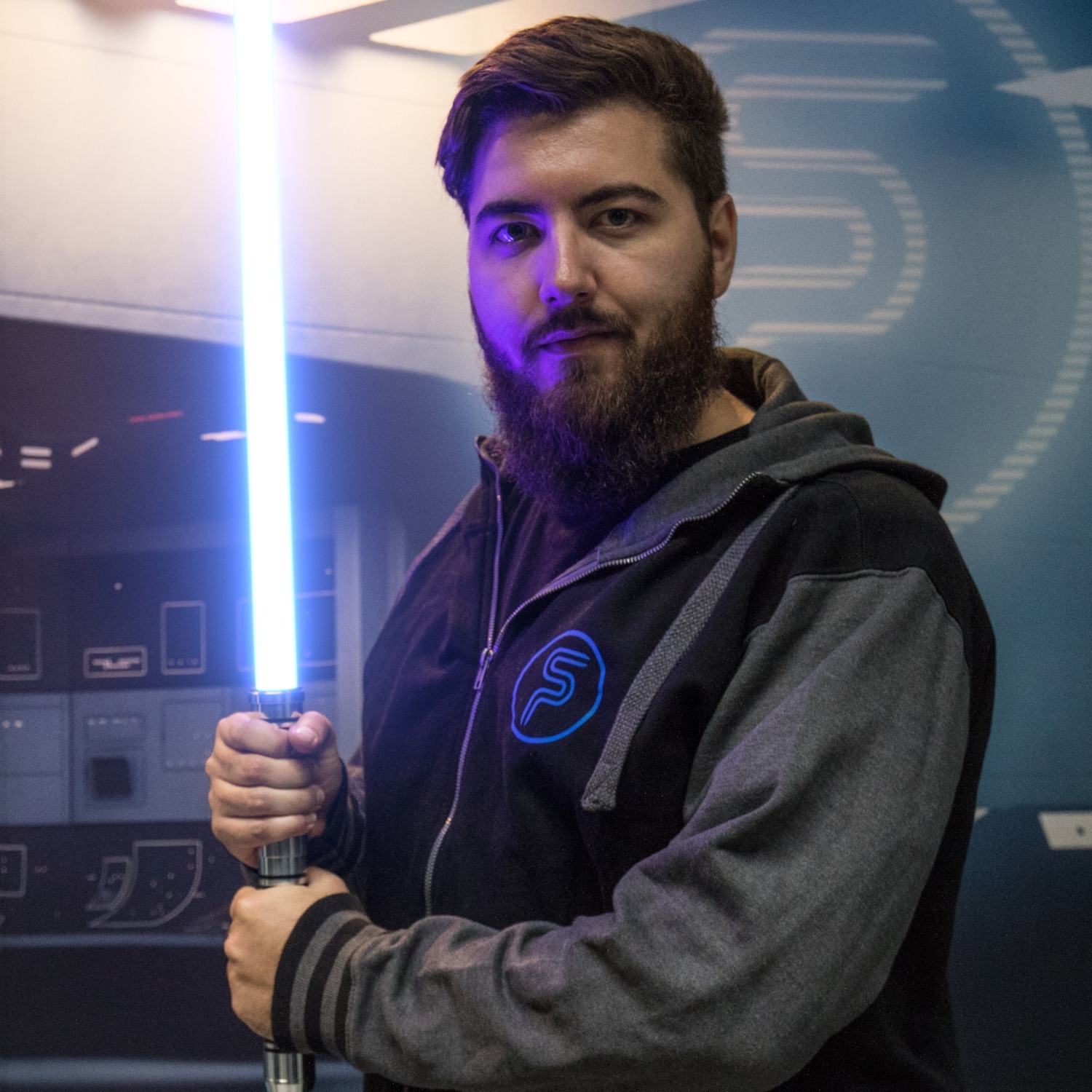 Co-Founder of the team, video editing - Member since 2006
Alex is one of our founder members. He and his father have been Star Wars fans from the very beginning and started replaying the battles scenes when Alex was only a little kid. However he was always fascinated most by the movies' visual effects and went for creating his own videos only a few years later. In 2006 he met with other fans and together they founded Saberproject.
Meanwhile not only his excitement for Star Wars has become one of his hobbies, but also his passion for special effects, which is why Alex is primarily responsible for our video section. Furthermore he is very attracted to the character of Darth Vader, so one should not be surprised that he owns his costume and often plays an important role in our stage performances with it. That is also why we like to call him by his nickname Vader from time to time.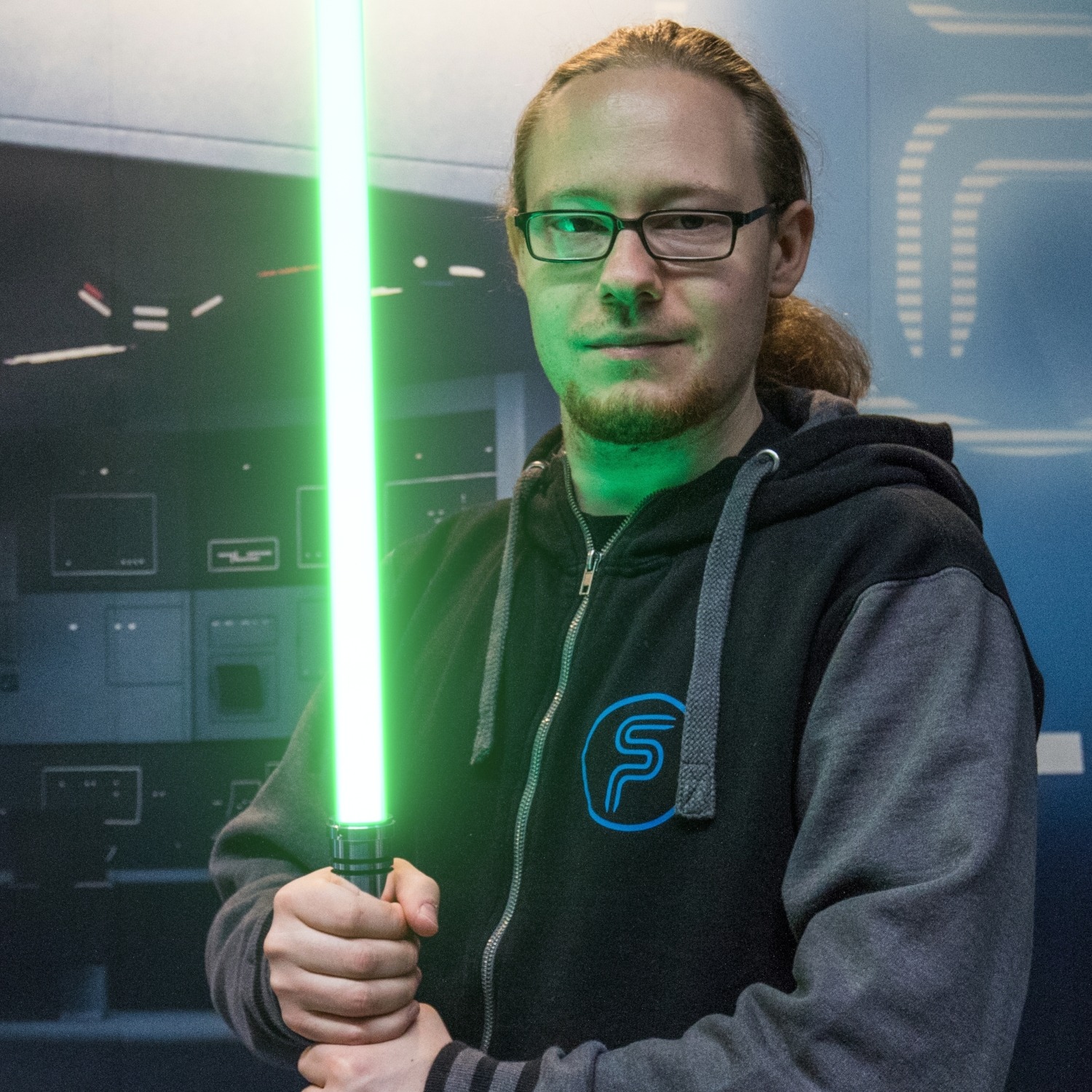 Lightsaber building & -training, texts, shop - Member since 2008
Since 2008 Markus is an integral part of the team. By participating in the first video contest, in which he won his first FX lightsaber, he got to know Saberproject. At the Jedi-Con 2008 he visited the team and joined them little later. At his beginnings he foremost dealt with texts and show planning. Gradually he also got acquainted with building lightsabers.
Meanwhile Markus has become the person in charge of building lightsabers, which includes not only the tutorial section on our website, but also the construction and maintenance of sabers used during the shows. Furthermore he is responsible for organizing and planning the shows as well as offering lightsabers, services and accessories as the owner of the Saberproject Shop.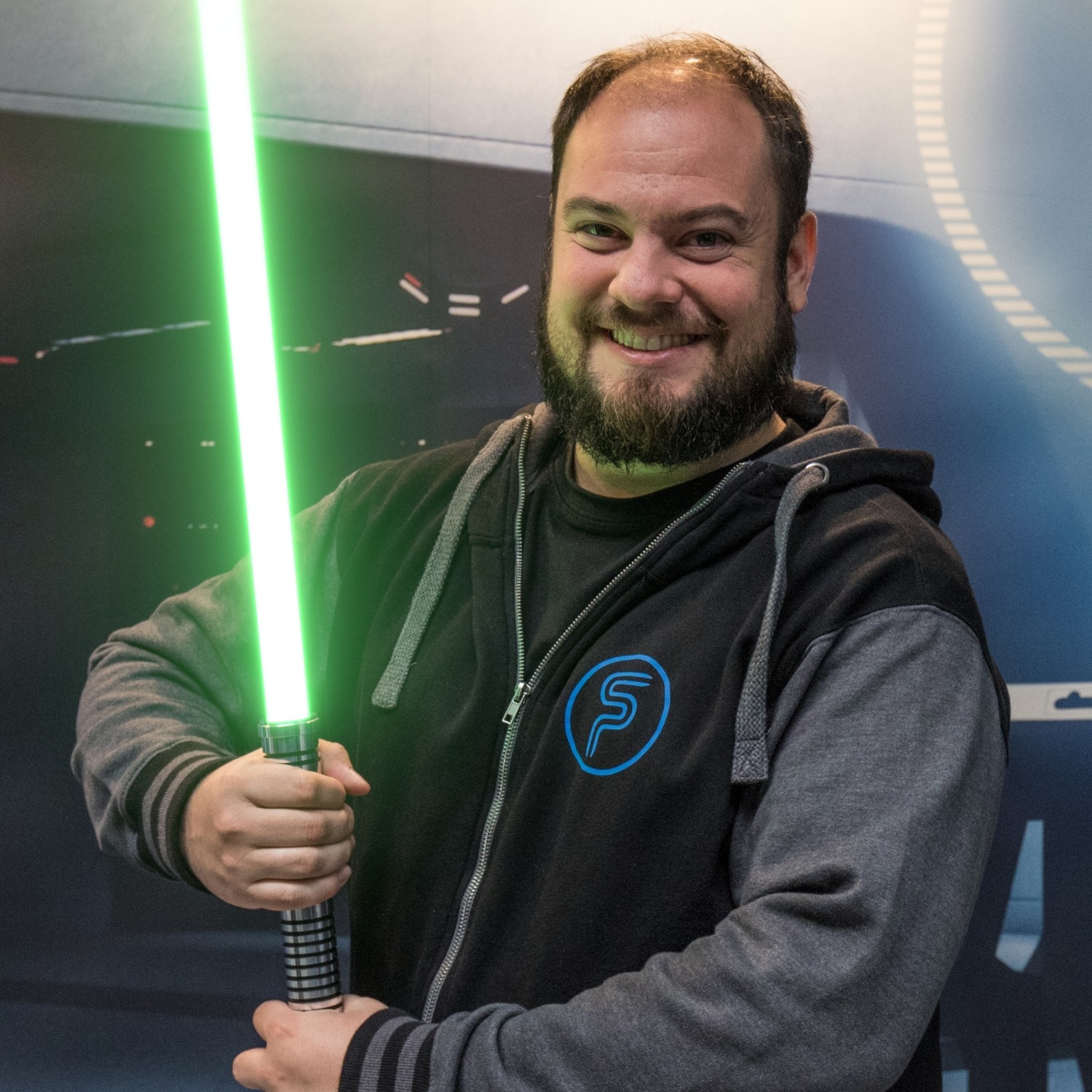 Member since 2010
Since his childhood, Chris has been a big fan of the Star Wars movies (only three at that time). From the very beginning he was excited lightsaber, an elegant and somehow mystical weapon which can only be used by a few chosen ones. When he first spotted a FX-lightsaber on Ebay, there was nothing that could have stopped him. He joined Team Saberproject in 2010 and can now finally live out his hobby.
Within the team he is mainly responsible for writing and texts in general. Chris writes most of the announcements and daily reports of our events as well as other interesting news. In addition he has taken over the responsibility for planning, coordinating and implementing our regular updates on the website. Naturally he is also part of our stage shows, in which he primarily focuses on using a single lightsaber, and – at least in the recent programs – represents the light side of the force.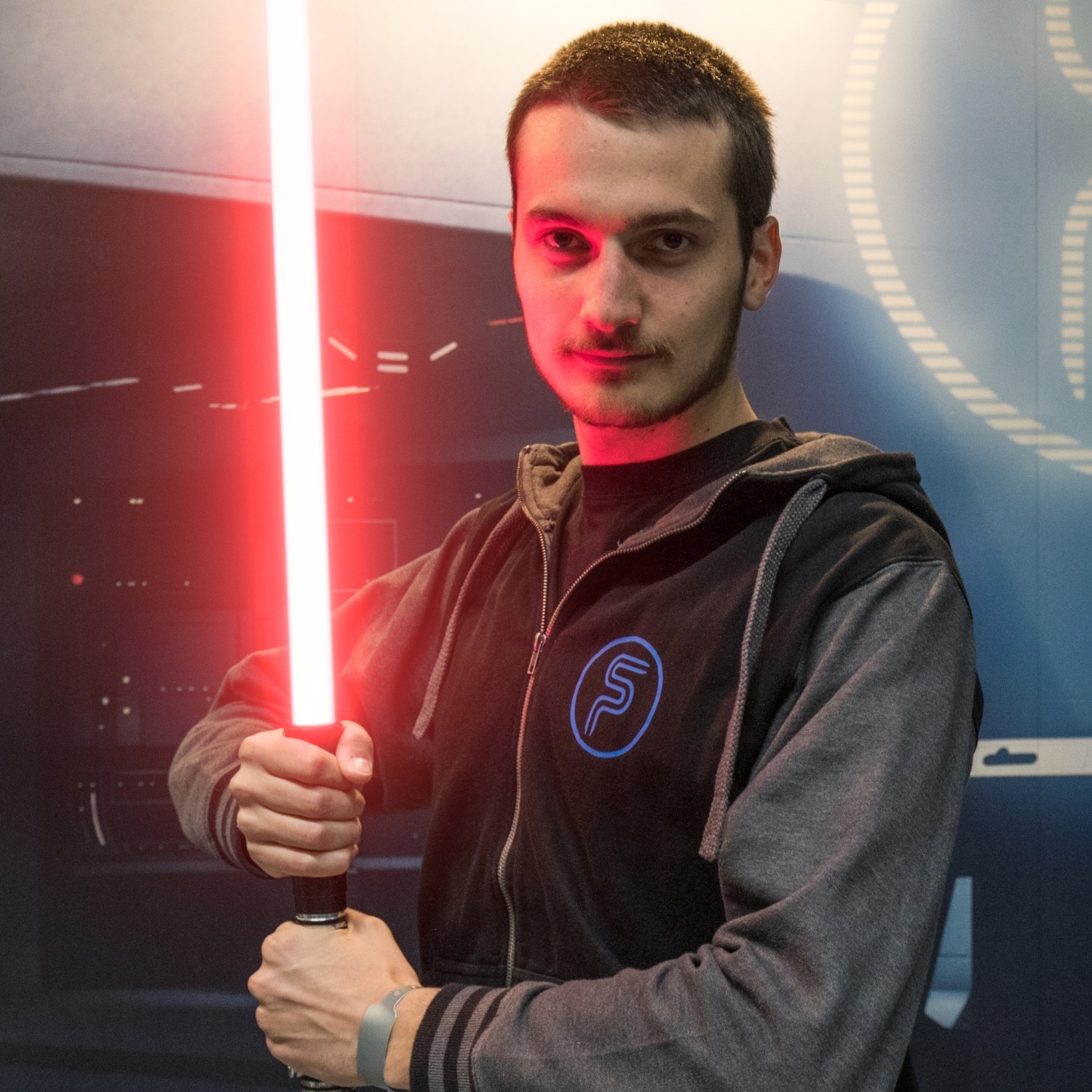 Johannes Reil
Videos, Bilder
Video- & picture editing - Member since 2015
Seit Hannes im Jahr 2011 bei den Star Wars Tagen im Legoland Deutschland das Team Saberproject persönlich kennengelernt und zum ersten Mal live erlebt hat, ist er ein großer Fan und treuer Unterstützer und Helfer des Teams.
Nachdem er die Jahre über regelmäßig bei großen Events tatkräftig mitgeholfen hatte, egal ob hinter dem Stand oder Fotos schießend im Publikum bei einer unserer Shows, folgte 2014 der erste große Schritt ins Team und für Hannes ging ein langersehnter Traum in Erfüllung: Er wurde Teil der Bühnenshow.
Since Hannes got to know the team at the Star Wars Day in Legoland Germany and experienced it live he is a big fan and assistant of the Team. After supporting it for many years with helping out at the booth or taking photos in the audience during the show, he was on stage for the first time in 2014. A big dream had become true. After a successful year he officially became part of the Team. So, the long wait was worth it. Now he can enthuse others and mostly kids with his passion and, as part of the team, do his bit.
If there is no event Hannes cares about video editing for our trailers or tutorials. He is also responsible for the maintenance of our social network and planning updates with Tim. On stage Hannes is in the role of a Sith who wants to destroy the last remaining Jedi.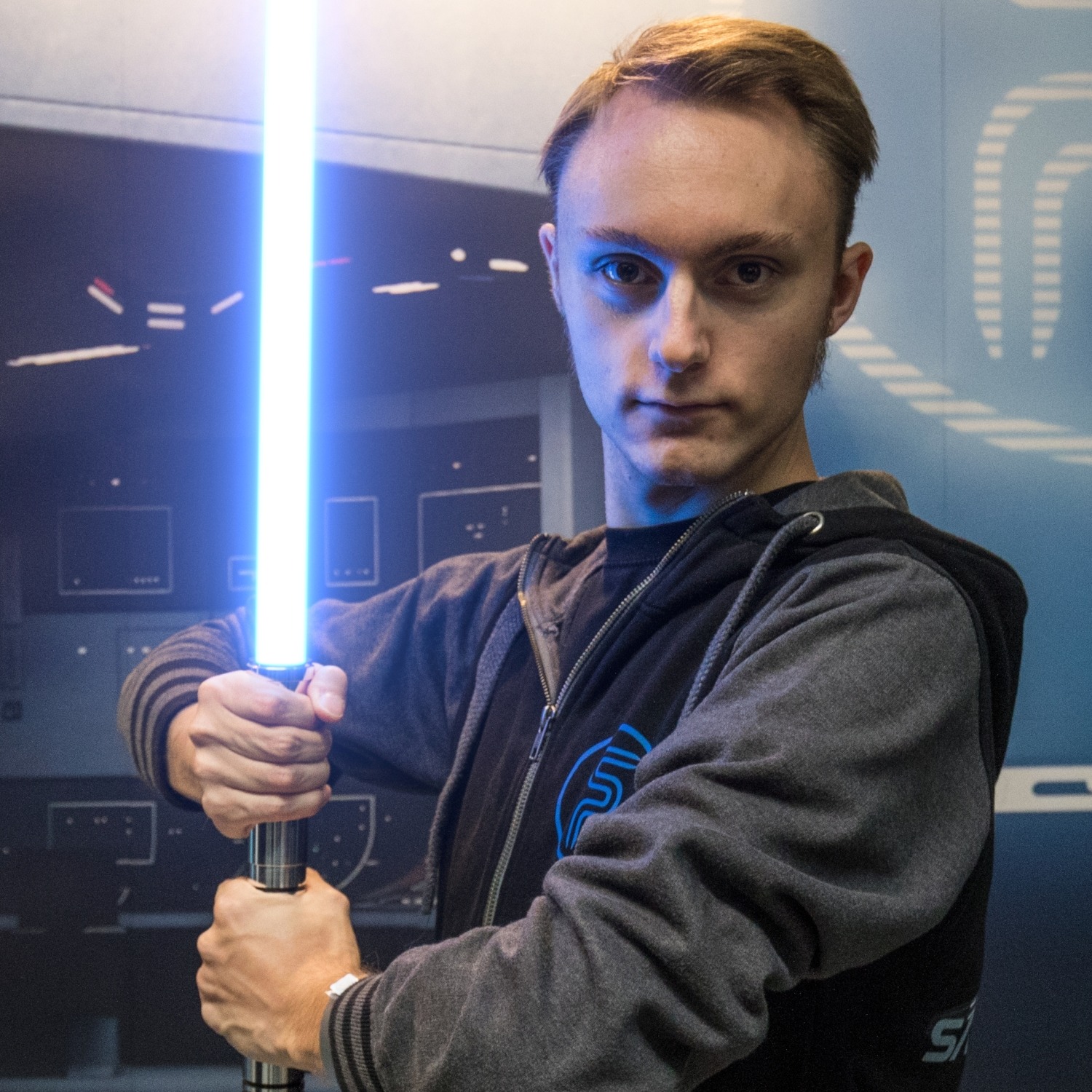 Just a few years ago when Hendrik was looking for a fancy decoration, he got to the Saberproject website more or less randomly. As an enthusiastic Star Wars fan a he was lost immediately. Since 2010 the former decoration has become a passion and Hendrik came to very event - first as an assistant and since the beginning of 2015 as member of the team.
Behind the scenes he takes care of almost everything that is needed. Whether it is writing articles for various events or simply the general updates for the homepage Hendrik is always ready. He also helps collecting more new and exciting material for our social media website. In addition he is responsible for our booth which he transports crisscross through Germany and straight to the next event.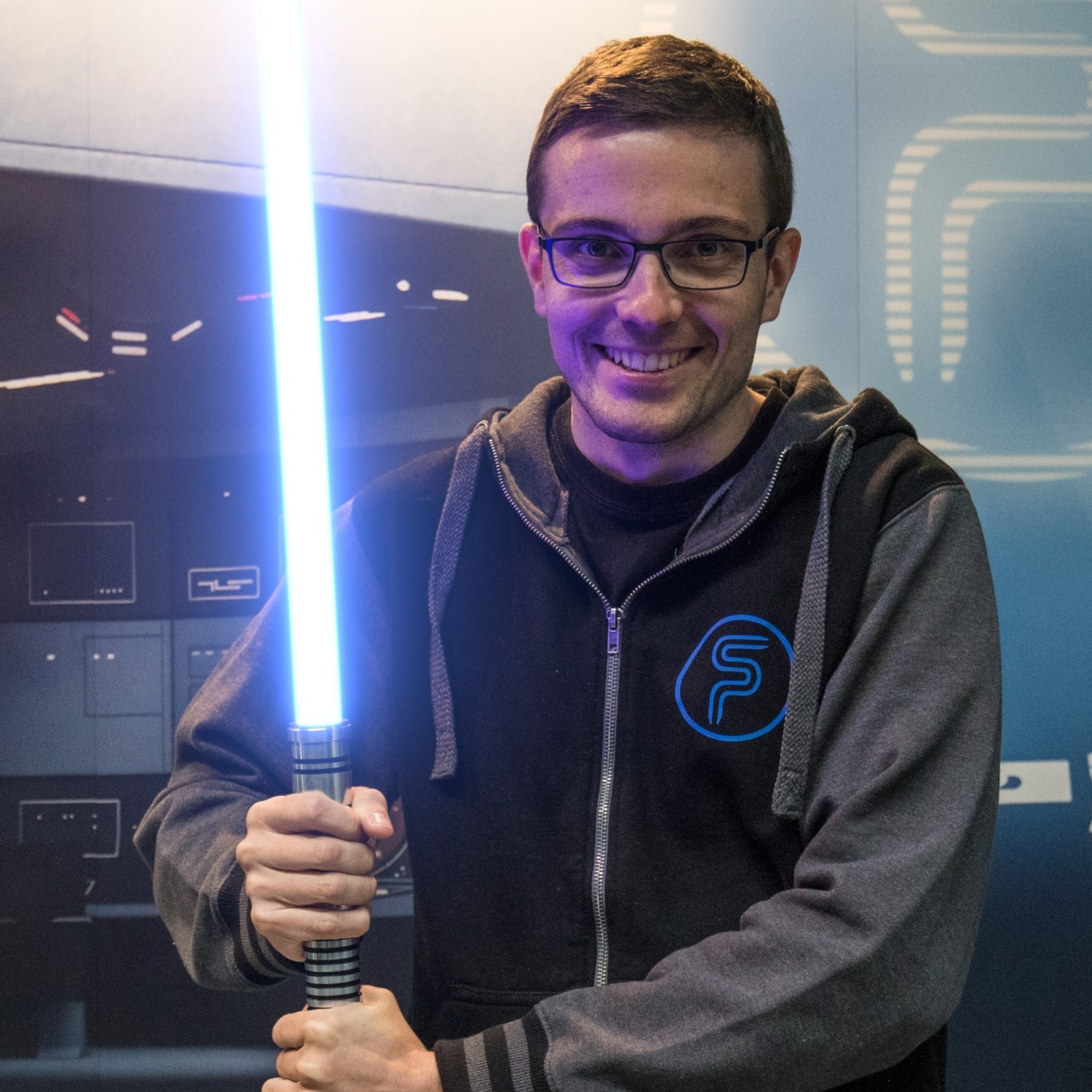 Stefan Müller
The Technician
Stagesound, Technical control - Member since 2013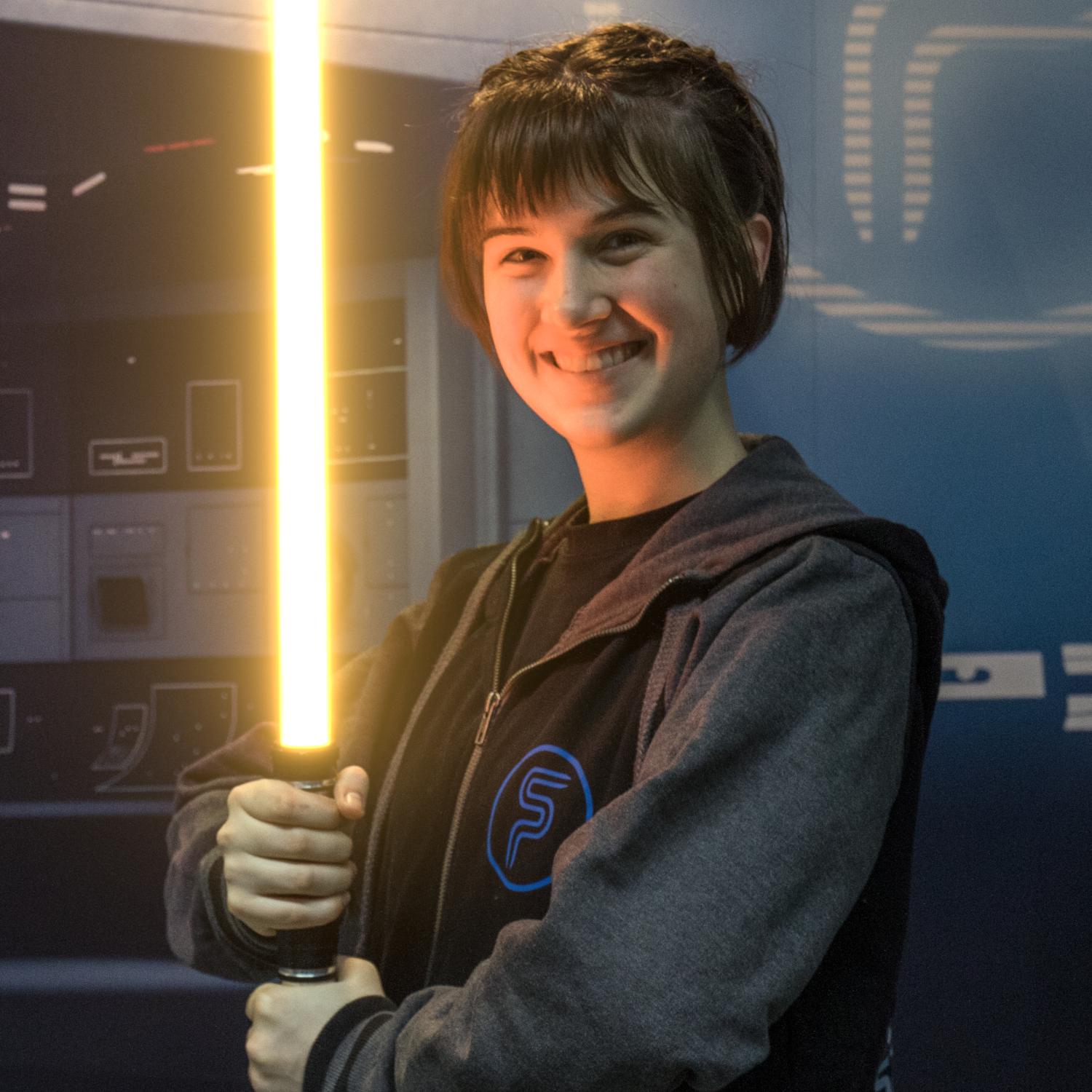 Übersetzungen - Seit 2017 dabei
Jo ist unser jüngstes Mitglied und der beste Beweis dafür wie man kleine Träume verwirklichen kann.
In 2016 she visited us for the first time as a fan at an event, back then it was her dream to be a member of our team.
Several meetings followed until we finally took her with us to other events as a supporter. So she became part of our shows and even plays the leading role of the "New Intern" in "Rise of the Last Intern".
Her talent, her cheerfulness and her passion for lightsabers finally made her a permanent team member.